Suisoft KitBase 2
Database Designed for Scale Modellers
KitBase is a flexible, easy to use database for tracking your kits, accessories, paints and references.

Benefits
Always know what you have in your stash
Locate your kits and aftermarket with ease
Know the value of your collection
Import Your Data
If you have your data in a spreadsheet, you can easily import into KitBase and try it out.

Data from other databases can also be imported if you can export it into a compatible format.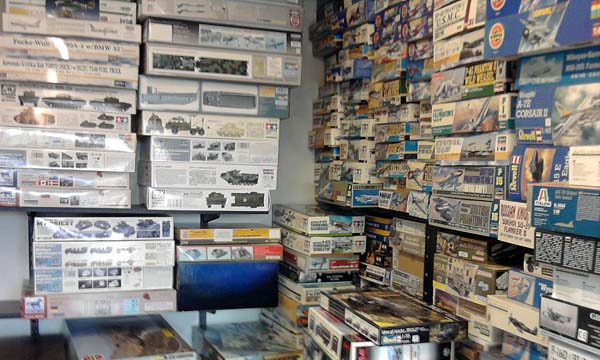 Make It Your Own
You can customise every aspect of the database to your own requirements. Using straightforward screens, you can design columns, views, forms, reports, even entirely new tables.
Reviews from Customers:
An excellent piece of software that helps me not only keep track of kits, aftermarket, references and paint, but also where I have them stored... Customisable forms and filtering make searching simple. I wouldn't be without it now.

- John Laidlaw


A breeze to find information about your collection of kits, paints or references.... and the scary and important bit.... the value of your collection for insurance purposes

- David Atchinson


Gives you this great feeling - when you have all the tools in place on your working table... and you feel you have also "all things in place" with your records. Thank you... Simply great.

- Alexander Benetashvili


Excellent program and version 2 is so much more flexible to use than version 1 was. Highly recommended for all of us with large kit collections to manage.

- Rob Feehan


Simple to Use Data Entry
KitBase is very easy to use. Everything is easy to find and interactive.

All drop down lists can be maintained on the fly, making data entry and corrections quick and easy.

Most fields are optional. You can fill in as much or as little detail as you prefer, or even remove fields that you don't need.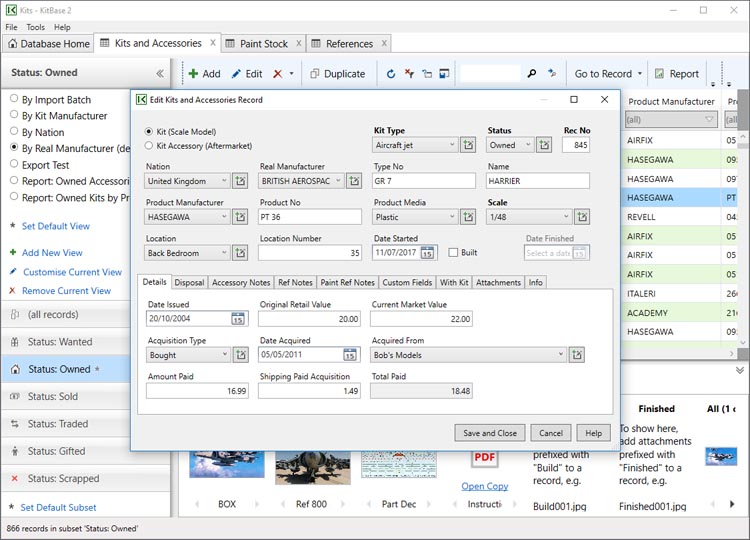 Flexible Filtering
You can instantly restrict the list using drop-down filters, e.g. by choosing Vehicles, Germany

Further filtering power is provided by 'Contains' text filters and 'Range' filters for numbers and dates.

Read More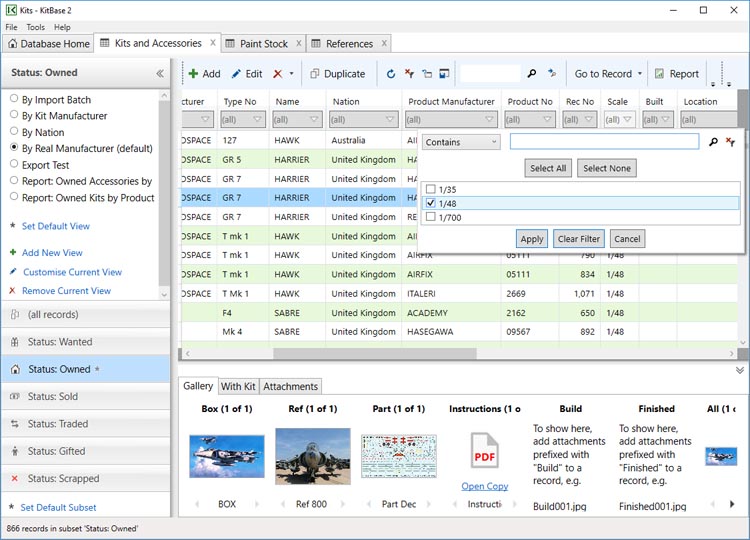 View Customisation
Choose the columns that you want to see in the list. Columns can be rearranged very easily and data can be ordered Ascending or Descending.

Set up multiple views and quickly switch between them using the view list.

This enables you to easily set up different perspectives on your data, for example 'By Nation', 'By Real Manufacturer' or 'By Purchase Date, Latest First'.

Read More


Complete Database Customisation
You can customise the database to your own requirements. You can add, change and remove tables and fields.

Custom views, screens and reports can be created to suit your needs.

Read More


Accessories with Kits
As with kits, you can record full details of the accessories in your collection.
Compatible accessories are easy to find via the filters.

As well as adding accessories that are stored separately, you can quickly add accessories that are stored with a kit.
When 'Add Accessory' is clicked the majority the fields are pre-filled from the associated kit.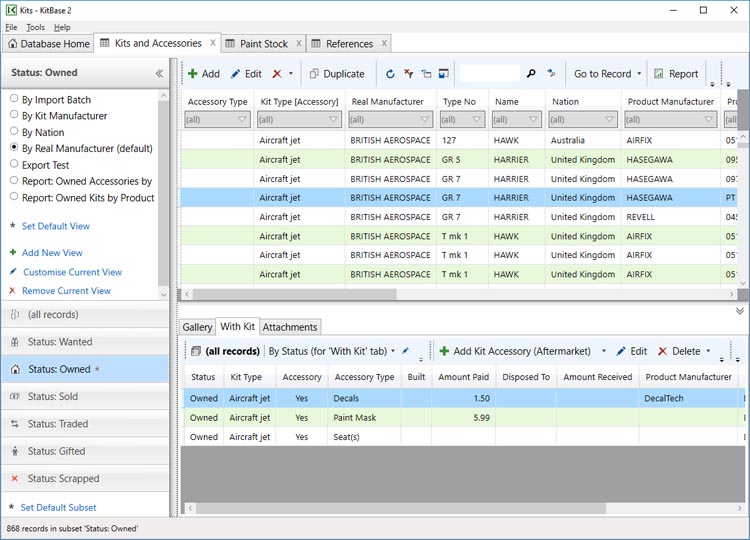 Status Tracking
You can maintain lists of Wanted, Owned, Sold, Traded, Gifted and Scrapped kits and accessories.

Switching between lists is quick and easy using the navigation bar at the bottom left.

When you buy, sell, trade, give away or scrap a kit, simply change the status on the record to move the kit into a different list.


Attach Documents and Images
You can associate documents and images with your kits, for example photographs of box art or built kits.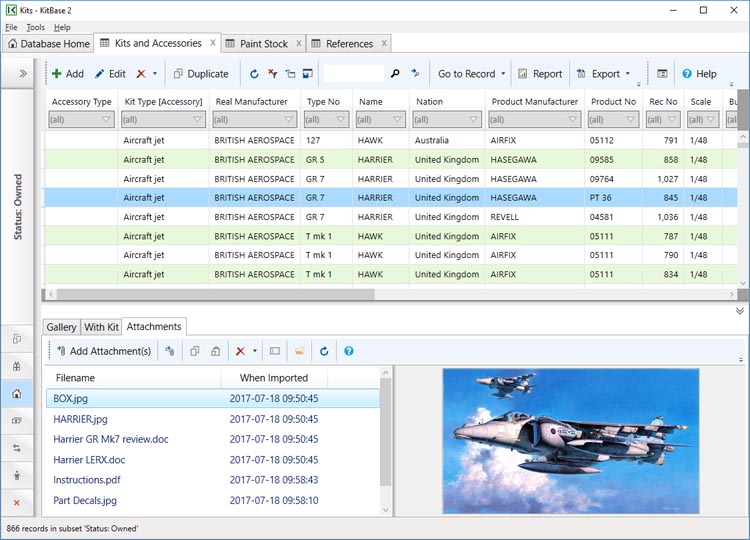 Gallery
Attached images are automatically displayed in the kit's gallery, categorised according to the start of their file name (e.g. Box001).

You can simply click an image to pop up a full size preview and browse through the category.

Credit: The Harrier photograph was taken by Andrew P. Clarke and published via Wikipedia.

Read More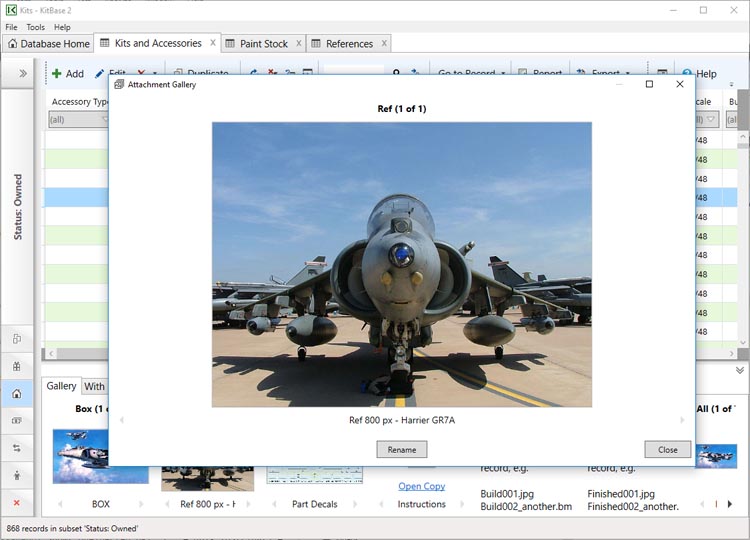 One-Click Reports and Export
A printable report can be produced automatically for any view by clicking the 'Report' button on the toolbar.

Reports can be exported as HTML (web pages) and views can be exported as spreadsheet-compatible CSV files.

Read More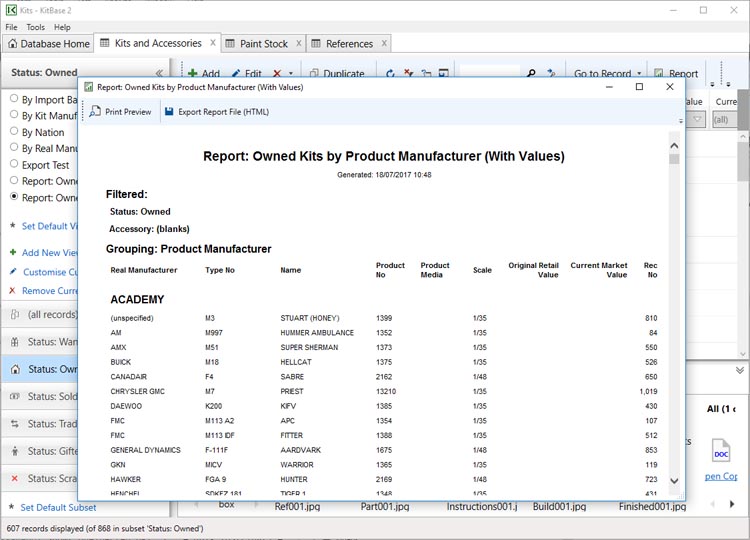 Paints
Your paint stock and wish list can also be recorded. Fields are provided to enter the equivalent paint numbers for different manufacturers and schemes, so that you can easily substitute paints (e.g. Tamiya versus Mr Color).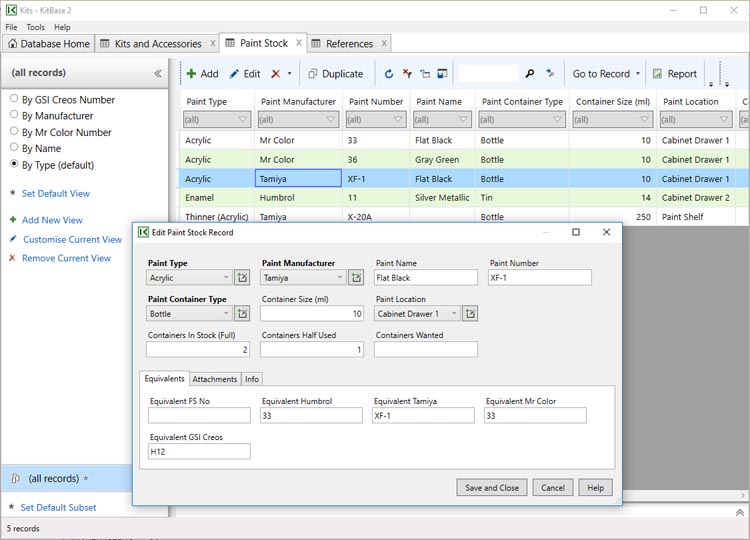 References
You can also catalogue your magazines, books and web references. A list of each kit or subject can be made for each publication, so that you can look up relevant information for a particular kit or look up the location of the reference.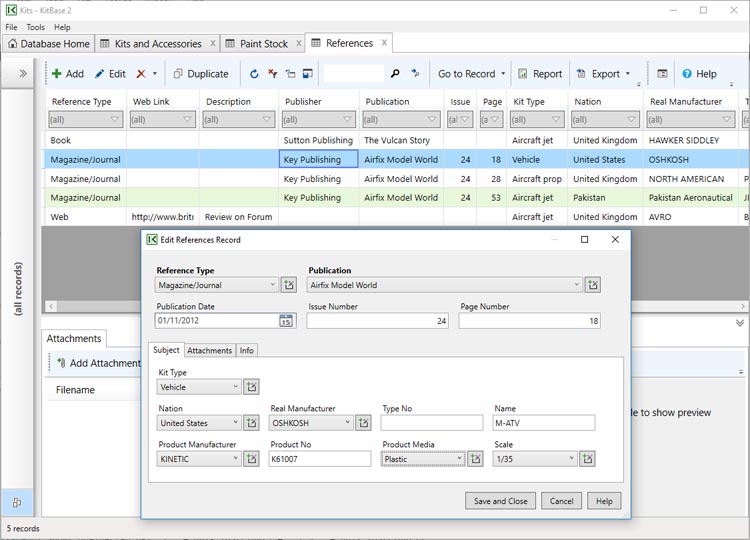 Free Trial with No Time Limit
You can try out KitBase for as long as you want. Some features are only available in the full version and number of records per table is limited.
Try or Buy KitBase 2 now
Keep up to date on Facebook